Tuesday, February 11, 2020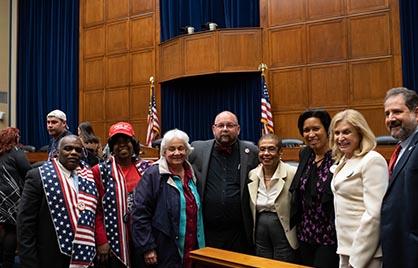 (Washington, DC) – Today, Mayor Muriel Bowser issued the following statement after the House Oversight and Reform Committee passed the Washington, D.C. Admission Act.
"Today marks another historic day in our fight to become the 51st state. I thank Chairwoman Maloney, Congresswoman Norton, and all of the majority committee members for making the passionate and effective case for DC statehood. And we thank Majority Leader Hoyer for ensuring the bill continues its congressional journey to the House floor.
"We emphasized today what supporters of statehood already knew coming in: DC statehood is constitutional, we have a plan in place to make it happen, and it is the only way to fix the injustice of denying more than 700,000 Washingtonians a vote in Congress.
"Furthermore, the relentless and forced attacks on our DC values serve as an important reminder that statehood is not only about representation in Congress, it is also about self-government, autonomy, and defending the very principles our nation's democracy was founded on. By focusing their attacks on our values, opponents of statehood have proven once again that they have no other case to make – constitutional or otherwise.
"Finally, it is fitting that this historic vote happened in the midst of Black History Month, for I dare say – achieving DC statehood would be black history."