In 2014, the New Columbia Statehood Commission was created to coordinate DC's statehood initiatives. The Commission provides support to the shadow Congressional Delegation in promoting statehood for DC and voting rights for DC residents. The Commission is comprised of Mayor Muriel Bowser, Council Chairman Phil Mendelson, Senators Paul Strauss and Michael D. Brown, and Representative Franklin Garcia.
The Office for the New Columbia Statehood Commission is located in the John A. Wilson Building at:
1350 Pennsylvania Avenue, NW
Suite 324
Washington, DC 20004
Phone: (202) 724-7173 | Fax: (202) 727-0278
Mayor Muriel Bowser serves as Washington, DC's seventh elected mayor. Sworn in on January 2, 2015, she pledged to bring a fresh start to the District of Columbia, create pathways to the middle class for residents, and foster a culture of incl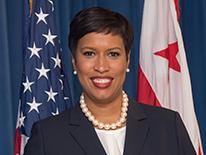 usion, transparency, and action. In everything she does, the Mayor puts Washington, DC residents first and ensures that DC's priorities match the peoples' priorities. She holds community engagement forums to solicit public input prior to finalizing her fiscal year budget. She is creating a more transparent and open government through a cutting edge open data policy. She championed the successful launch of one of the largest, most transparent body worn camera programs in the nation to enhance trust between the community and DC's Metropolitan Police Department. She also launched an inclusive technology program to support startups and entrepreneurs offering products and services to underserved communities.
Prior to her time as Mayor, Bowser served as the Ward 4 Councilmember of the DC Council, first elected in a special election in 2007 and re-elected in 2008 and 2012. As a Councilmember, Bowser served as the Chairwoman of the Committee on Economic Development, which created more than 5,000 units of affordable housing and secured from the federal government the best portion of the Walter Reed campus for DC. A native of Washington, DC, Bowser also served as an Advisory Neighborhood Commissioner (ANC) in the Riggs Park neighborhood.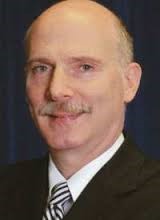 DC Council Chairman Phil Mendelson was first elected to the Council of the District of Columbia in November of 1998 as an At-Large Councilmember. He served in that role until June 2012 when, following the departure of the previous Council Chairman, Mendelson was selected by his colleagues to take over that role. In November 2012, voters overwhelmingly elected him as Chairman of the Council. He was re-elected as Chairman, again overwhelmingly, in 2014.
As Chairman, Mendelson leads the Council on all legislative matters. He also presides over the Committee of the Whole, which has responsibility for Washington, DC's annual budget, the Council's relations with the federal government, Council appointments to various boards and commissions, as well as proposed changes to DC's Charter. Chairman Mendelson was instrumental in DC's court victory on budget autonomy. In addition to his work on the Council, Mendelson is active with the Metropolitan Washington Council of Governments (COG), an independent, regional association of elected officials from the Washington, DC, Maryland, and Virginia.
Prior to becoming Chairman, Mendelson served eight years as Chair of the Council's Committee on the Judiciary. He has been an active participant in DC politics since 1975, when he became a member of the McLean Gardens Residents' Association. In 1979, he successfully ran for a seat on the Advisory Neighborhood Commission and continued to serve as an ANC until he took office as an At-Large Member of the Council.
Senator Paul Strauss lobbies Congress on behalf of the citizens of Washington, DC in their attempt to gain full federal representation and statehood. Senator Strauss has been a leader and activist in DC since 1987. He began his career at DC Superior Court, as the DHS Court Liaison. From the Court, he joined the legislative staff of the DC Council where he worked as a Legislative Assistant for the Committee on Consumer and Regulatory Affairs. He is an attorney and principal of the Law Offices of Paul Strauss & Associates, P.C., a law firm specializing in real estate, business, and family law. Strauss is a former Chairperson of the District's Board of Real Property Assessments and Appeals. He is a former at-large member of Washington, DC's Democratic State Committee and Chairman of its Statehood Committee. In 1986, he was elected as an ANC and served until he took office as Washington DC's United States Senator. As of January 2, 2017, he has served 30 years as an elected DC official, with 20 of them as Senator.
Senator Michael D. Brown was elected to serve as Senator for Washington, DC in 2006. He has been a resident of DC for more than 28 years. Brown is the president and founder of Horizon Communications Corp., which provides direct mail services to political organizations and non-profit organizations. For the past 32 years, Brown has been involved in many national and local political campaigns, including six Democratic Presidential campaigns and the past nine Democratic National Conventions. Locally, Senator Brown has been a community activist, ANC, President of the Western Avenue Citizens Association, and an elected member of the Ward Three Democrats. He created a nationwide non-profit, Teach Democracy-DC, to help students and teachers across America learn about DC's struggle for statehood. He also created an on-line petition signed by residents in more than 35 states and created a project that erected 8,500 signs across the city to promote statehood during President Obama's first Inauguration.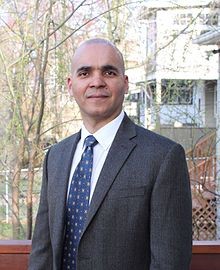 Franklin Garcia was elected Representative for the District of Columbia on November 4, 2014. He is working to bring full democracy to the more than 670,000 people in our nation's capital by helping make Washington, DC the 51st State in the Union. Representative Garcia is the former President and founder of the DC Latino Caucus and current President of the non-profit DC Latino Leadership Council. He has held key positions in the campaigns of Hillary Clinton, former DC Mayor Adrian Fenty, and Dominican President Leonel Fernandez. Representative Garcia serves on a number of Boards and Committees and served on the 50th Anniversary of the March on Washington Host Committee.
Representative Garcia came to Washington, DC with his parents and sister at the age of 10. He attended public school in Montgomery County, MD and holds an undergraduate degree in Finance from the George Washington University and a Master of Arts in Financial Economics for Public Policy from the American University. He is the founder of the DCiReporter TV Show, the DC Statehood Today Show, writes for a Spanish language newspaper, and is a Huffington Post and Examiner blogger. He is a member of the National Association of Hispanic Journalists.